10 Best Cosplays That Look Just Like Lynda Carter's Wonder Woman Costume
Lynda Carter's Wonder Woman costume is iconic to a generation of comic fans. These ladies pull off the DC icon's look fabulously in these cosplays.
You Are Reading :10 Best Cosplays That Look Just Like Lynda Carters Wonder Woman Costume
Lynda Carter's Wonder Woman had a very iconic look. Most commonly she wore a red bodice with a vaguely eagle-inspired gold emblem across the chest paired with star-spangled shorts. It became the premiere Wonder Woman imagery for the late 20th century.
Carter starred as Diana Prince from 1975-1979. She had few variations in her costume during that time. While there are many cosplayers recreating Gal Gadot's armor-like bodice from the Wonder Woman film, these select few have chosen the original Diana to embody. Let's look at some of the best we can find.
10 Naty Perzha Cosplay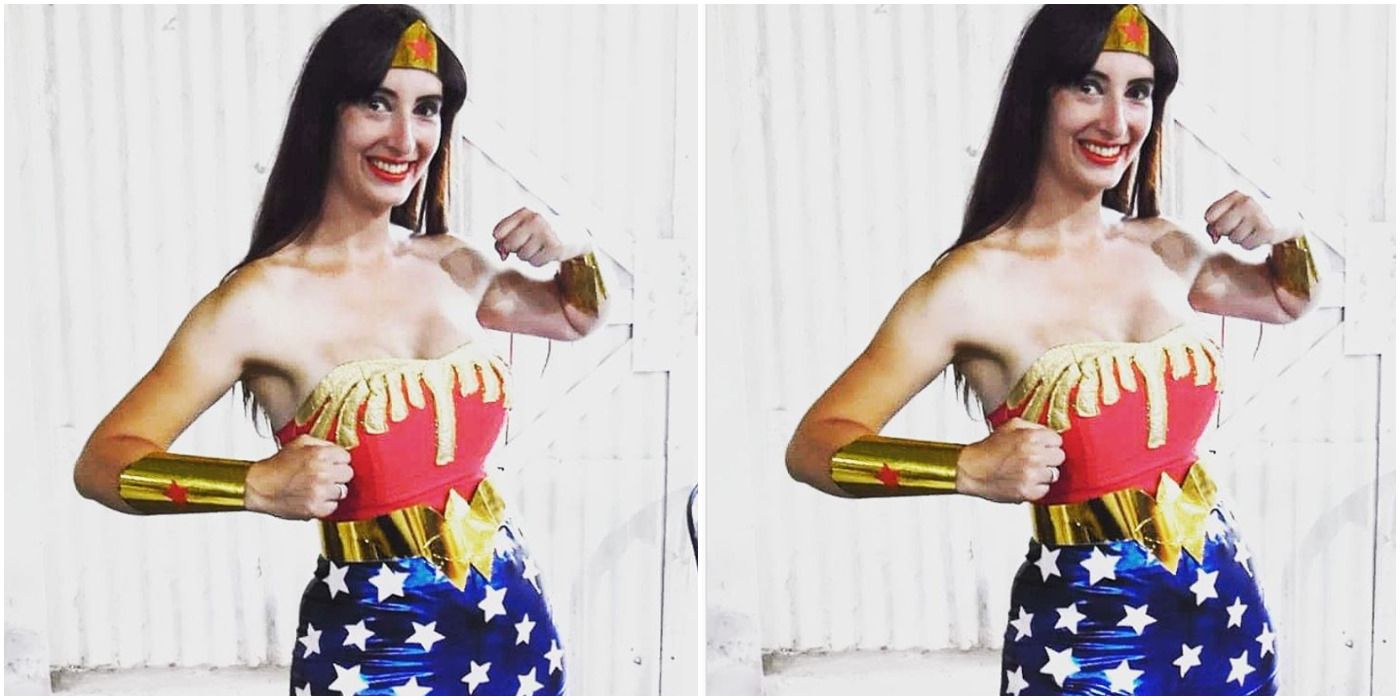 Naty Perzha wears the glorious bodice and shorts of Carter's Diana. She's got the gauntlets and headpiece as well. Her pose makes us think she could be on the television show herself!
Naty Perzha is a cosplayer who steps out as Wonder Woman on a regular basis. She's currently working on a Wonder Woman movie cosplay. In addition to being the Princess of Themyscira, she also has a look from Watchmen.
9 Miss Dani Cosplay
I was nominated to do the side by side challenge ✊🏻 Here is my side by side of my first ever cosplay which was Lynda Carters Wonder Woman 😍 I loved watching her growing up, she was such an inspiration and strong woman to look up to and she still is ❤️ . @missdanicosplay . .Photograph taken by the talented @pressphotog . . . I nominate @pheelgoodcosplay @badge3d_ @_shazbot_ @thorofoz @malfoycius @supershowgirlcosplay . . . #Wonderwoman #wonderwomancostume #wonderwomancosplay #gvmdesigns #lyndacarter #galgadot #justiceleague #justiceleaguemovie #jla #cosplay #jl #dc #dccomics #dccosplay#girlswhocosplay #geekgirls #strongwomen #photography #photooftheday #picoftheday #instamood #instagood #lassooftruth #themyscira #dcextendeduniverse #dceu #dccinematicuniverse #superman #aquaman #batman
A post shared by Miss Dani Cosplay (@missdanicosplay) on Nov 25, 2017 at 5:28pm PST
Miss Dani has helpfully included a photo of Lynda Carter herself side-by-side with her own cosplay photo taken by Press Photog. We can see how similar the two are! Not only do they wear exactly the same costume, but they also share the same magical cape. The hair too is perfectly teased into 1970s fullness.
Miss Dani is an Australian cosplayer, gamer, and collector. Lynda Carter's Wonder Woman was a strong, inspiring woman to her when she was growing up. In addition to Wonder Woman, she has quite a few Disney cosplays as well.
8 Rachel (sidekickcosplays)
Sci fi is so close fam #wonderwoman #wonderwomancosplay #70swonderwoman #lyndacarter #lyndacartercosplay #cosplay #cosplayersofinstagram #cosplaygirl #dc #dccomics #dccosplay
A post shared by Rachel (@sidekickcosplays) on Feb 8, 2020 at 12:10am PST
Rachel makes an adorable Wonder Woman. She's got the whole costume in the bag, down to the Lasso of Truth. Her costume has a rustic 1970s feel much like the original. It's perfect.
Sidekickcosplay is a cosplayer with a huge repertoire of costumes under her belt. She does an amazing genderbent Nightwing, as well as an Elsa, a Starfire, and a Robin.
7 DFW Wonder Woman
Stand for something right, even if it means standing alone. – Suzy Kassem. Photography by @ronaldthebald #dfwwonderwoman #wonderwoman #wonderwomanisreal #realwonderwomen #lassooftruth #godkiller #godofwar #wonderwomancosplay #wonderwomancosplayer #ww84 #dc #womenofdc #wonderwomanfan #wonderwomancomics #dcuniverse #dcuniversecosplay #dccomics #dccomicscosplay #lyndacarterfans #galgodot #weareallwomderwoman
A post shared by DFW Wonder Woman (@dfwwonderwoman) on Apr 19, 2020 at 8:20am PDT
In this glorious shot by photographer Ron Wheeler, DFW Wonder Woman stands alone. It's no problem, she says, as long as she's standing for what's right (her caption quotes Suzy Kassem). DFWWW has all the right parts of the costume. She even has the nobility of Carter herself.
DFWWW is the official Wonder Woman of the Dallas-Fort Worth area. She's the founder of Cause to Play, a group of cosplayers who do philanthropic events. She is a cosplayer, yes, but she's also a mermaid!
6 Jna (jnalye86)
"Your power comes from hate. But my power comes from love. And that is much stronger!" // This quote of Wonder Woman to Ares is from a kid's storybook that I bought for Miriya. So much negative vibes lately on my feed and I'm saddened by it. Especially what's happening in the States reminds me that hate pleases the God of War. Yes, "faith" is incredibly important for us during these vulnerable times but lack of wisdom, reasons and compassion are among the biggest culprits to life destruction. With this Bracelets of Submission pose, let's banish our ego, be more loving and don't let Ares take control of us. Stay safe. XOXO
A post shared by Jna (@jnalye86) on Apr 21, 2020 at 2:28am PDT
Jna takes the Bracelets of Submission pose to banish Ares and hate from America during this difficult time. Wonder Woman is the perfect inspiration for this troubling situation. She brings light to darkness and takes on evil with all her might. She's a figure of hope.
Jna looks stunning as Diana in this image captured by photographer Arthur Pang. She is the mother of an adorable two-year-old girl and cosplays in her spare time. She's been known to dress as Silk and Spider-Gwen as well as Wonder Woman.
5 Brandi (wonderwoman_htx)
And remember that, in a world of ordinary mortals, you are a Wonder Woman. #nationalsuperheroday (photo by: @exxkaliburr) . . . #wonderwomanhtx #houstonswonderwoman #wonderwoman #instapic #photooftheday #picoftheday #houstoncosplay #texascosplayer #wonderwomancosplay #cosplay #cosplayer #cosplayersofinstagram #cosplaygirl #houston #htx #htown #hou #houstontx #houstoncity #texas
A post shared by Brandi -Houston's Wonder Woman (@wonderwoman_htx) on Apr 28, 2020 at 2:31pm PDT
While DFWWW has the Dallas-Fort Worth area covered, Brandi covers the Houston area of Texas. She's the gloriously charming official Wonder Woman of her region. She certainly has the charm to be Diana. And the hair, too!
Brandi uses her status as Wonder Woman to benefit charitable events. She stuns as Diana in this snap taken by a photographer known as Arthur.
4 Candy Keane (sewgeekmama)
Happy 4th of July! It's a great day to wear red, white and blue 🇺🇸 * * *This is the first Wonder Woman costume I ever made. I've made many more since 😁 . . . . . . #wonderwoman #happy4thofjuly #patriotic #redwhiteandblue #cosplay #cosplayersofinstagram #wonderwomancosplay #over40cosplay #wonderwomancostume #geekmom #geekmomlife #geekmama #sewgeekmama #geekymom #cosplaymom
A post shared by Candy Keane (@sewgeekmama) on Jul 4, 2019 at 7:49am PDT
Candy Keane connects with the camera in this photo of her as Wonder Woman. Her chemistry as the character is clear. The two really connect. Keane has a wonderfully made costume that checks all the boxes from the TV show.
Keane is a cosplayer and a geeky mom. She has a truly incredible cosplay of Antiope from Wonder Woman (2017). Lately she's been making masks to donate from her leftover cosplay fabric.
3 Pamela Galindo (kimiko.garu)
🇺🇸⭐WW 70's ⭐🇺🇸 . #dc #dccomics #dccosplay #dctrinity #ww #wwcosplay #wonderwoman #wonderwomancosplay #superman #batman #cosplay #cosplayer #justiceleaguemovie #justiceleague #comics #ww70 #lyndacarter #lyndacarterfans #lyndacartercosplay #wwlyndacarterlatino #wonderwomanlyndacarter #lyndacartercosplay
A post shared by Pamela Galindo 👑 (@kimiko.garu) on Jan 8, 2020 at 9:46pm PST
Pamela Galindo looks to the skies in this gorgeous shot of her Wonder Woman costume. She pairs the beautiful handmade bodice with the blue and white starred shorts. Lynda Carter also once wore a spangled skirt but it's not as frequently cosplayed.
Galindo is a cosplayer and fan from Mexico. She creates and wears elaborate princess dresses as well as Anime costumes. She has a movie Wonder Woman cosplay as well.
2 Morgan N (nightingale_vixen)
🎉Day 10/10 of Performer/Artist Challenge. I was nominated by @lynelizbergs 💖It's the last day of the challenge! I had a fun time sharing work I'm proud of. I haven't had a lot of time to make anything new lately but being more active on here makes me motivated for my next project! . . Every day, select an image from a day in the life of a Performer/Artist. A photo from a day you felt fierce or a memorable moment you had during a performance/show and post it without a single explanation. Then nominate somebody to take the challenge. That's 10 days, 10 photos, 10 nominations, 0 explanations. Be active, be positive, be passionate. Raise awareness of the arts! Today I nominate @thehypnorealm ⭐ . . . . #wonderwomancosplay #commission #wonderwoman #gauntlets #dc #dccomics #wonderwomancostume #cosplay #cosplaygirl #cosplaywip #cosplaygirls #costume #cosplaying #cosplayer #cosplaylife #wip #batmanvsuperman #wonderwomanmovie #superman #batmanvsupermandawnofjustice #batman #justiceleague #evafoam #armor #amazonprincess #galgadot #spacon2018 #spacon #lyndacarter #lyndacarterwonderwoman
A post shared by 👻Morgan N👽 (@nightingale_vixen) on Dec 4, 2019 at 2:02pm PST
Morgan N. embodies Lynda Carter's Wonder Woman perfectly. She has the costume down, complete with the Lasso of Truth. She even has matching red and blue socks beneath her classic red and white striped go-go boots. The hair is really what makes the look because it's teased into that huge 1970s shape.
Morgan is a children's librarian by day, cosplayer, costume designer, and gamer by day off. She has cosplays of every character from a Disney princess to Raven, to Princess Mononoke.
1 Lynda Lucía Carter
Wonder Woman Diving suit PH @zatodavid #wonderwoman #wonderwomancosplay #wonderwomancomics #lyndacarter #lindacarter #mujermaravilla #mulhermaravilha #dccosplay #dccosplayer #cosplaygirl #cosplay #galgadot
A post shared by Lynda Lucía Carter (@lyndacartercosplayer) on Sep 3, 2018 at 4:53pm PDT
We could have included every photo Lynda Lucía Carter has on her Instagram because of how closely she resembles Lynda Carter's Wonder Woman. However, we chose a very unique Diana Prince costume. In the TV show, Diana is sometimes required to take her fight to the water. When she does, she wears this wetsuit.
Lynda Lucía Carter shines, even without the sheen of water in this photo by David Zato. She is primarily an official Wonder Woman cosplayer. She has many, many versions of the Princess' costumes to choose from on her outings.
Link Source : https://screenrant.com/wonder-woman-lynda-carter-costume-cosplay-best/