Devolverland Expo Twists Marketing Into A Free Doom-Style Game
Devolver Digital decided to forgo the typical Zoom presentation in favor of a satirical free game that also advertises its other projects.
You Are Reading :Devolverland Expo Twists Marketing Into A Free DoomStyle Game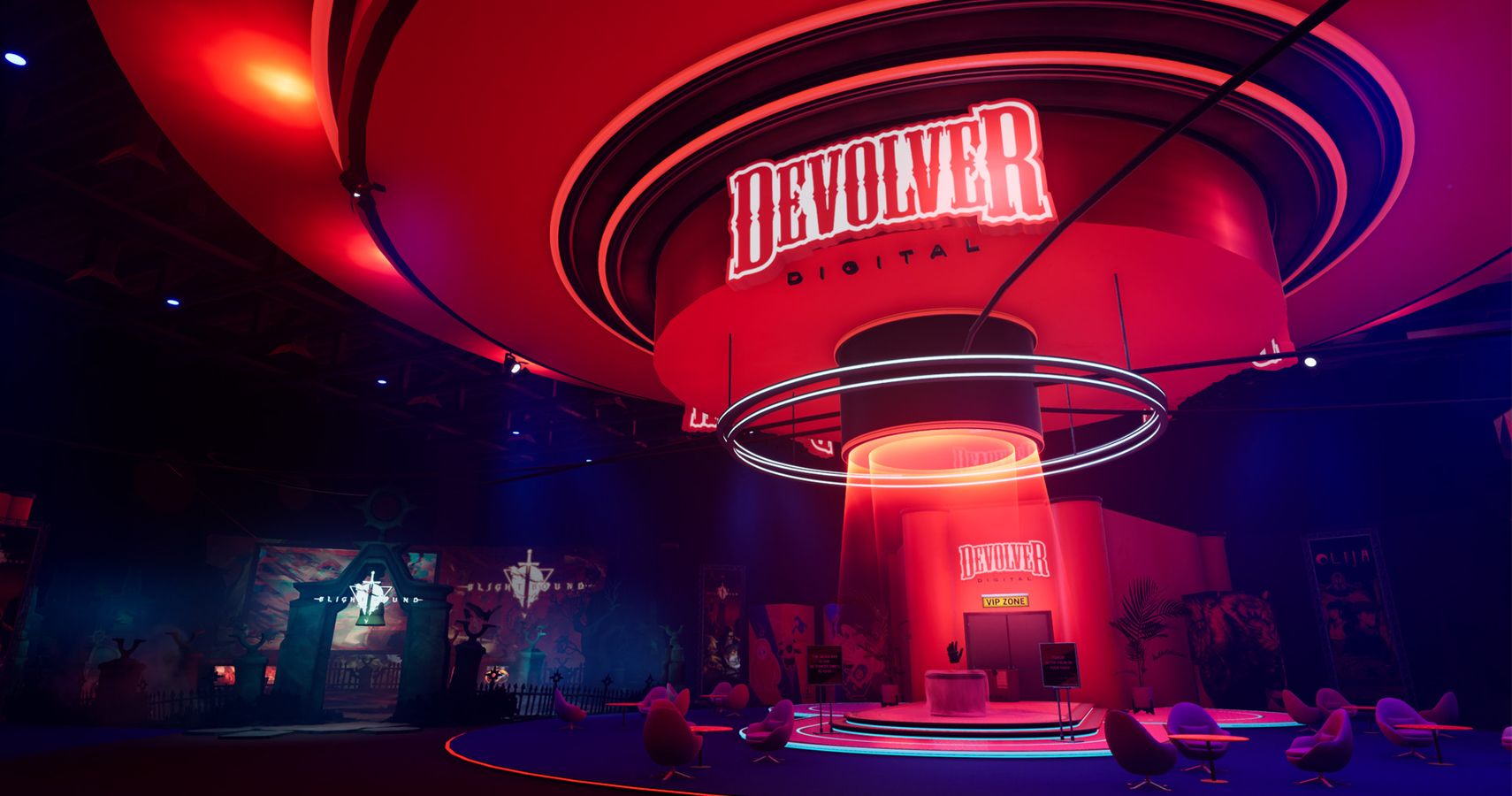 Video game publisher Devolver Digital, beyond the caliber of the games it publishes, became well-known for its showcases at gaming conventions after some creative and intentionally boundary-pushing presentations at E3 in the convention's recent years. This year, of course, neither E3 nor Devolver were able to host in-person presentations for any upcoming games whatsoever, so in lieu of that, Devolver hosted a digital showcase on July 11th for some of its releases planned for the balance of this year. Among these announcements was the reveal of a free-to-play FPS, Devolverland Expo, which essentially gamifies the current state of gaming conventions.
Devolverland Expo resembles Doom in its perspective and visual style. Its gameplay includes shooting segments, in which the player character is pitted against enemies of the robotic and demonic variety, as well as some puzzle and platforming segments, similar to the classic FPS franchise from which it appears to take the majority of its inspiration.
Its hook, however, is not its gameplay but its setting. The player character in Devolverland Expo is exploring an abandoned video game convention center after its mysterious cancellation and attempting to secure trailers and other promotional content for the other games featured in the July 11 Devolver Direct while avoiding the convention center's security systems.
The idea, of course, appears to be that, short of Devolver being able to deliver a memorable in-person convention experience, the company has instead opted to create a unique virtual convention experience, extending it beyond a typical Zoom livestream and creating something playable. In doing so, and extrapolating real-life pandemic conditions into a post-apocalyptic scenario with a similar net result, Devolver has also created a work meant to satirize video game marketing. Devolver, in fact, describes this experience as a "marketing simulator."
European game company Flying Wild Hog developed Develoverland Expo, whose other credits include Juju, Hard Reset and the Shadow Warrior franchise. The latest in that series, Shadow Warrior 3, was among the other Devolver titles announced during the July 11 showcase. Devolverland Expo is currently available to download for free on Steam on the official page for Devolver's recent presentation, showcasing the other games unveiled alongside it and featured in its virtual convention center.
Source: Devolver Digital
Link Source : https://www.thegamer.com/devolverland-expo-marketing-free-doom-style-game/