Every Companion Character Revealed In The Paper Mario: The Origami King Trailer
Paper Mario: The Origami King is the newest Paper Mario game, and it seems that companion characters may be finally returning to the series.
You Are Reading :Every Companion Character Revealed In The Paper Mario The Origami King Trailer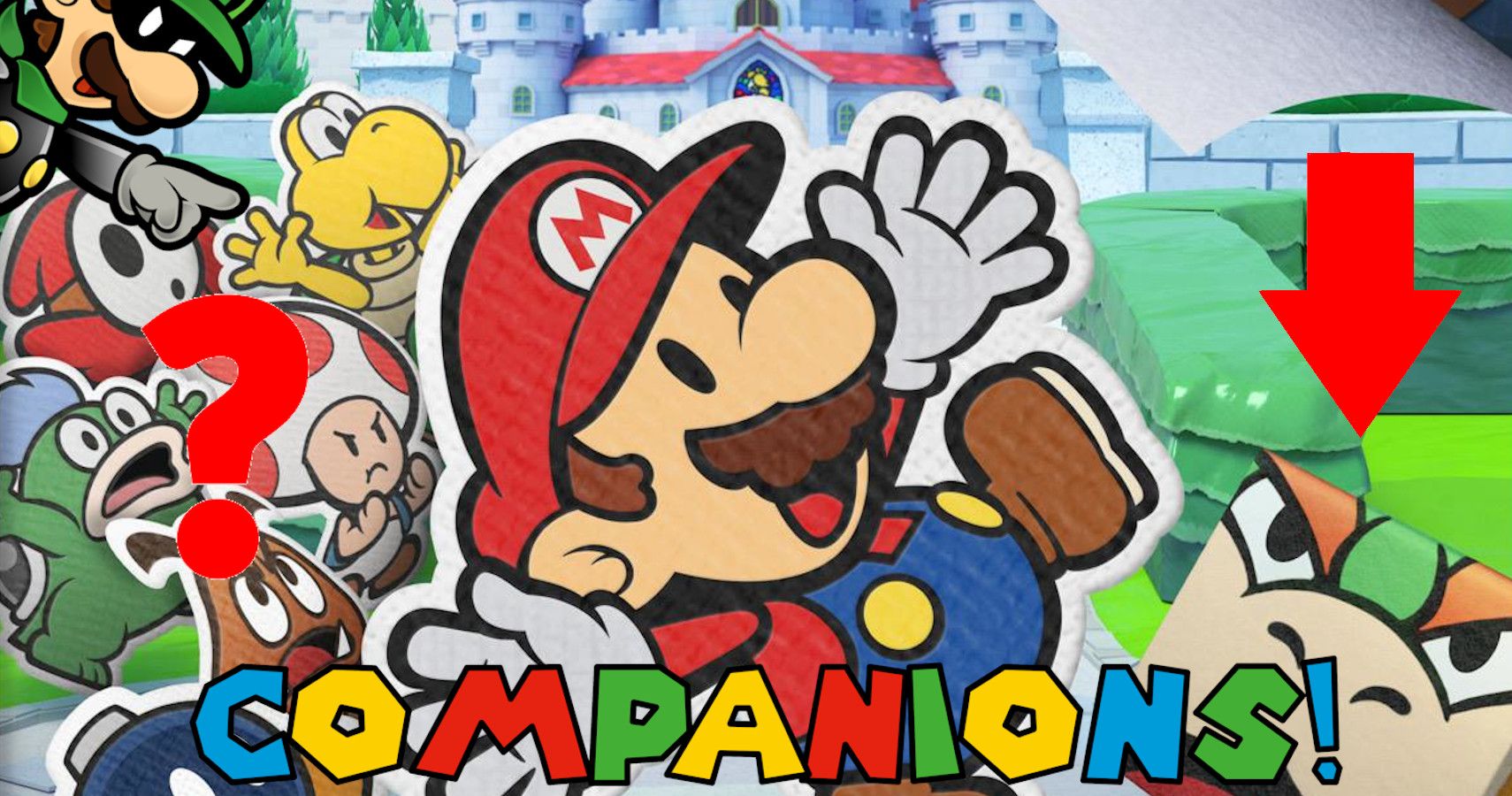 Paper Mario is a series perhaps best known for its unique and memorable companion characters. Though Color Splash and Sticker Star steered away from a big colorful cast of characters, the OG Paper Marios (Paper Mario and The Thousand Year Door) introduced unforgettable companion character like Goombario, Ms. Mowz, and the adorable Bombette.
Paper Mario: The Origami King is the newest game in the series, announced this week, and it seems that companion characters may be finally returning to the series. The trailer shows Mario with a variety of different characters in all different locations, indicating that new characters will accompany Mario on his Journey. The official Nintendo website for the game says "Join Mario, Olivia, and their companions on a journey of laughter and emotion, thrills, and a whole lot of folding." Though we only see Mario in the brief combat scenes from the trailer, it appears that companion characters are back. Here are all of the potential companion characters introduced in the Paper Mario: The Origami King trailer.
8 Olivia
Olivia will be Mario's first companion in The Origami King, and we actually know a fair bit about her thanks to the official Nintendo website for the game. Olivia is actually the sister of Olly, otherwise known at The Origami King.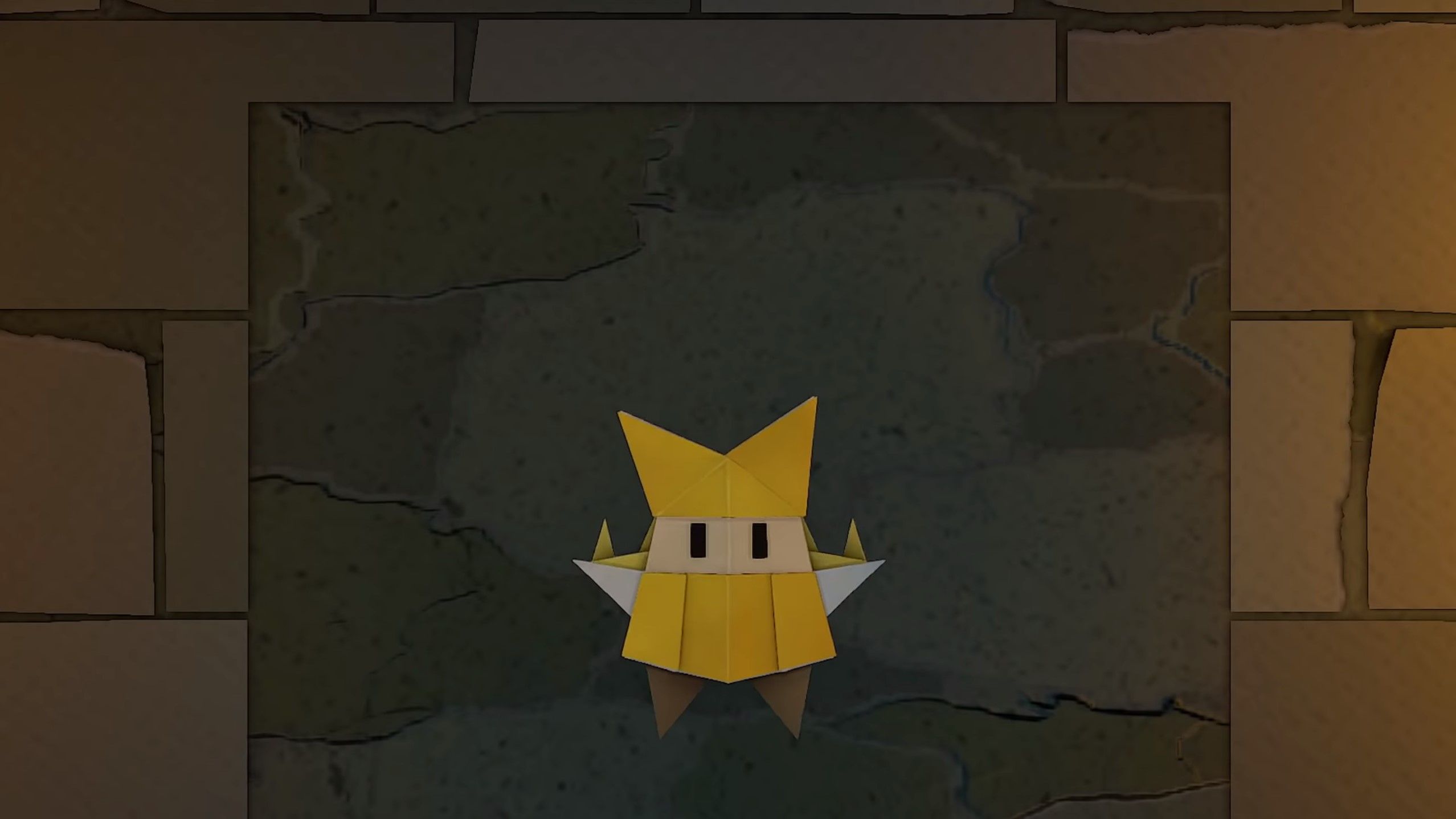 Olivia and Olly both come from the Origami Kingdom. King Olly has invaded the Mushroom Kingdom during an origami festival, wrapped Peach's Castle with 5 giant streamers, and transported it to a distant mountain. Olivia will be helping Mario untangle each of the 5 streamers (in 5 different worlds, naturally) in order to stop Olly and his army of folded soldiers from re-folding the world.
Olivia serves an important role on team Mario. Not only does she know her brother Olly better than anyone else, but it seems that helps Mario acquire some very important origami powers, such as the 1,000 fold arms seen in the trailer.
7 Folded Bowser
Folded Bowser is seen often throughout the trailer and is described on the official Nintendo website as a victim of Olly's plot, forced to Ally with Mario and Olivia.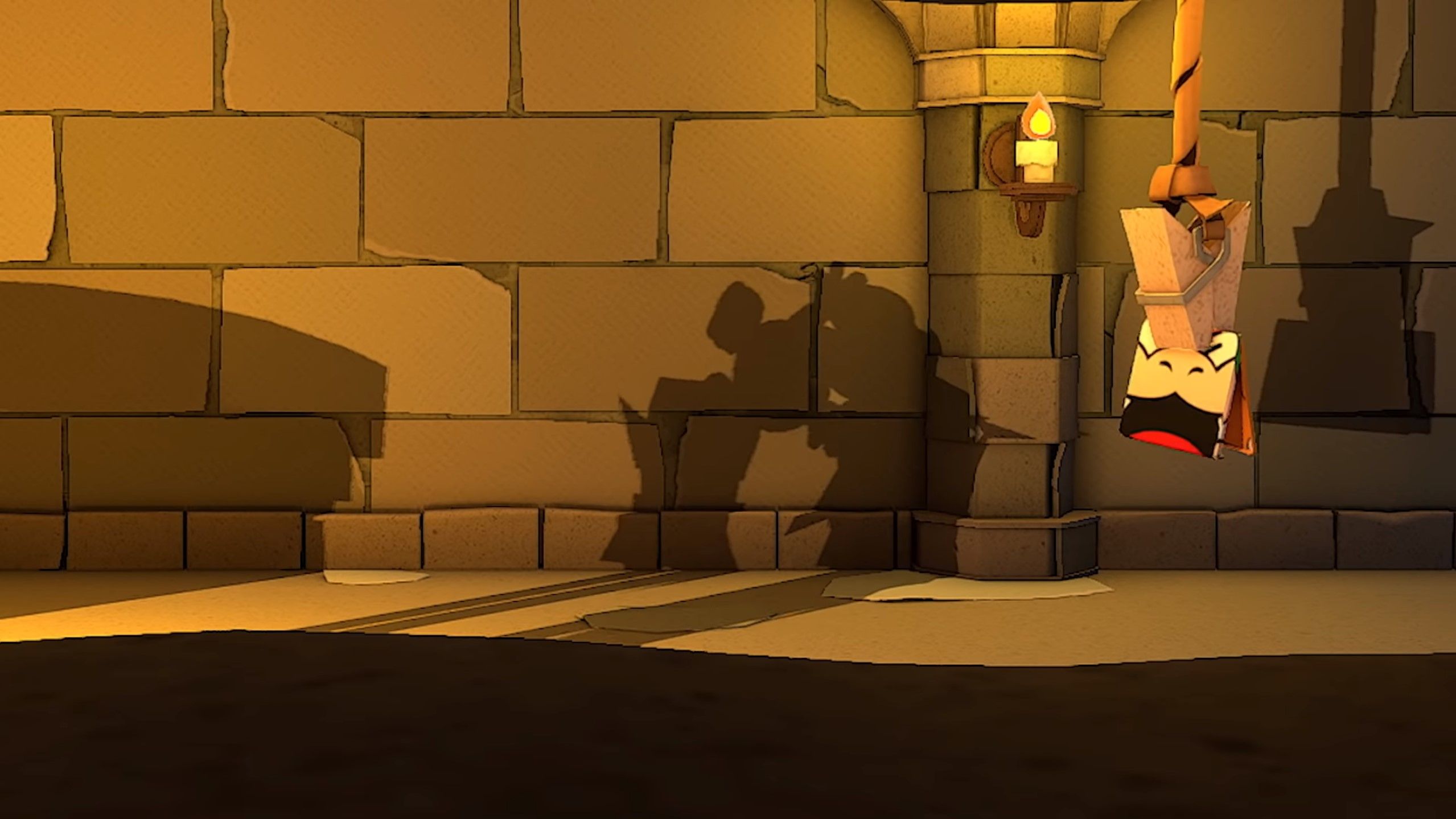 He isn't an origami version of himself like Princess Peach. Rather, Bowser seems to be folded in half like a sheet of paper about to be turned into an origami figure. Apparently, King Olly wanted to torture the Koopa King by making him watch his loyal subject get turned into origami. Naturally, Bowser will be wanting revenge, making him a perfect ally for Mario.
6 Bowser Jr. and Magikoopa
These two characters are seen briefly in a hot tub with Mario and Olivia, but some promotional screenshot that accompanied the trailer show Bowser Jr. and Magikoopa with Mario in some other areas of the game, indicating that they will likely be companions.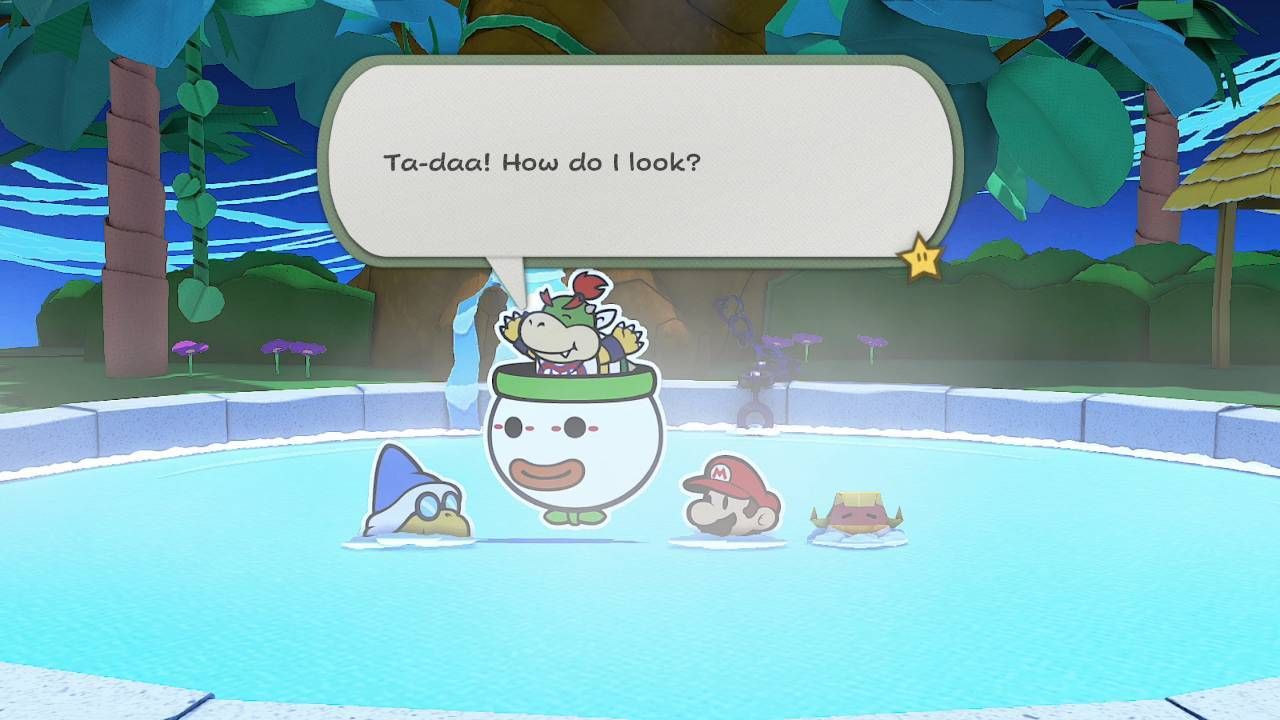 Bowser Jr. is in his iconic clown car while the Magikoopa (Kamek?) looks indistinguishable from any other Magikoopa. This is something we'll see with the rest of the new companion characters: they don't exactly have unique character designs that the OG Paper Mario companions do. Hopefully, what they lack in design they'll make up for in personality.
5 Bomb-Omb
We're already a big fan of this aloof Bomb-omb and that's basically the only thing we know about the character. Mario and Olivia meet the Bomb-omb on a train ride where he introduces himself in with a rather morose attitude.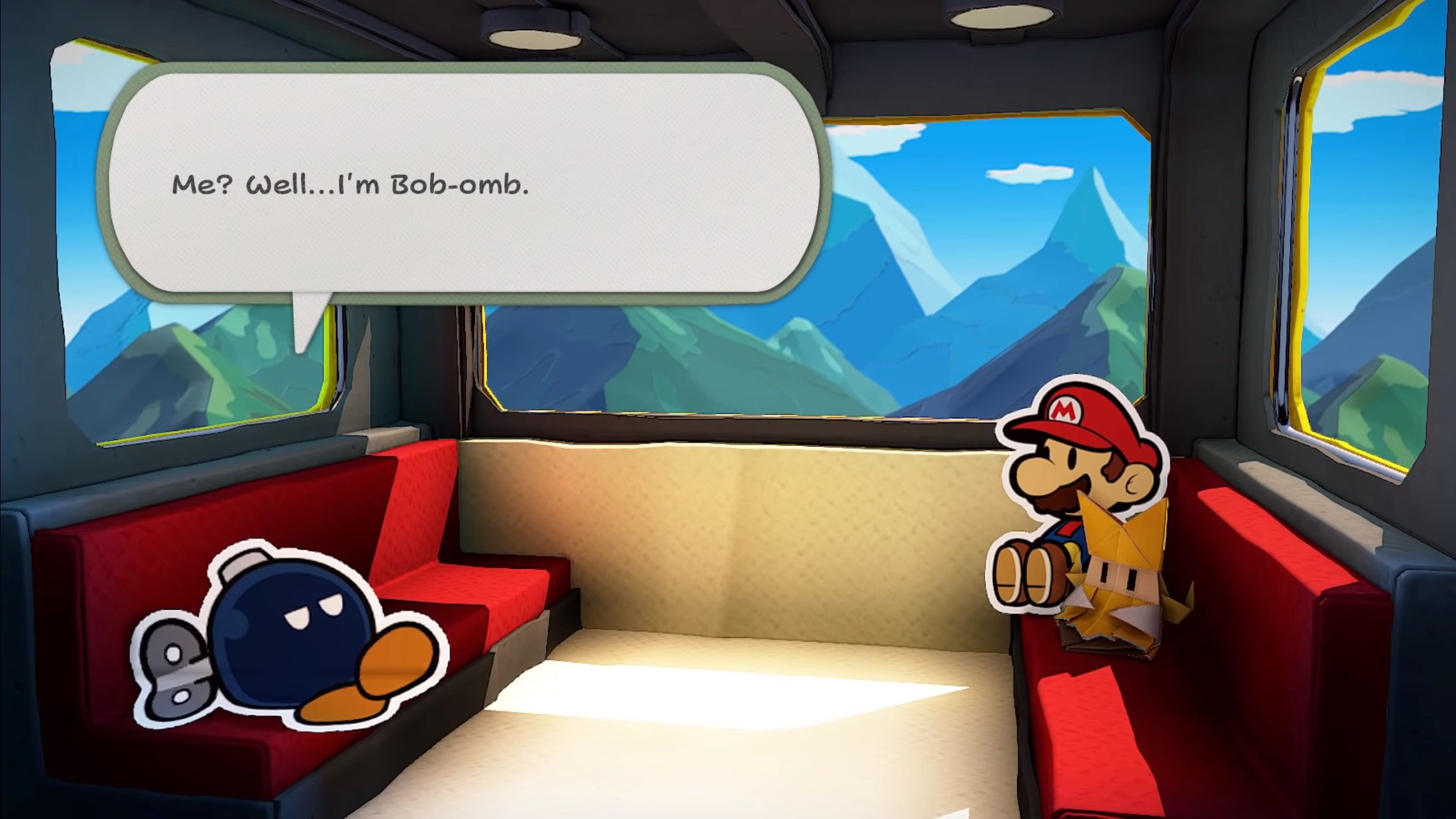 Can't wait to meet existential Bomb-omb. That's a mood.
4 Toad
There are a few Toads seen throughout the trailer, so it's kind of hard to tell which one is Mario's companion. There's a blue toad steering the boat during a mini-game, but the most likely candidate seems to be this yellow toad exploring a pyramid-type level with Mario.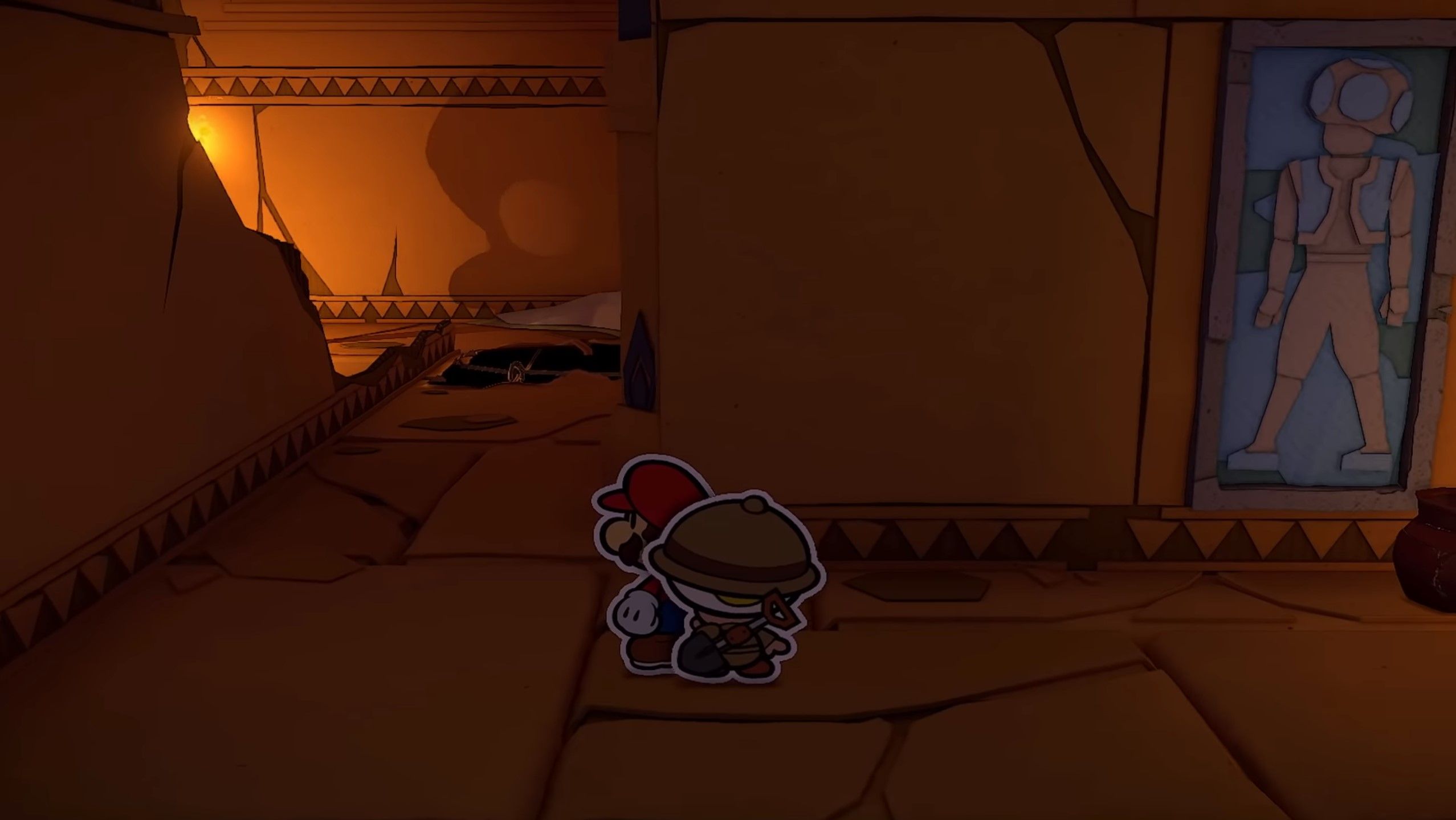 Interestingly, this isn't Captain Toad, a red Toad, even though the character seems to fit as a treasure tracker. For now, we're going to call him Lieutenant Toad.
3 Koopa
The Koopa is seen very briefly during a cutscene where Mario fishes up an enormous Cheep Cheep. The Koopa is cheering in the background there, and then later appears on Bowser's Airship when the team is attacked by a paper airplane.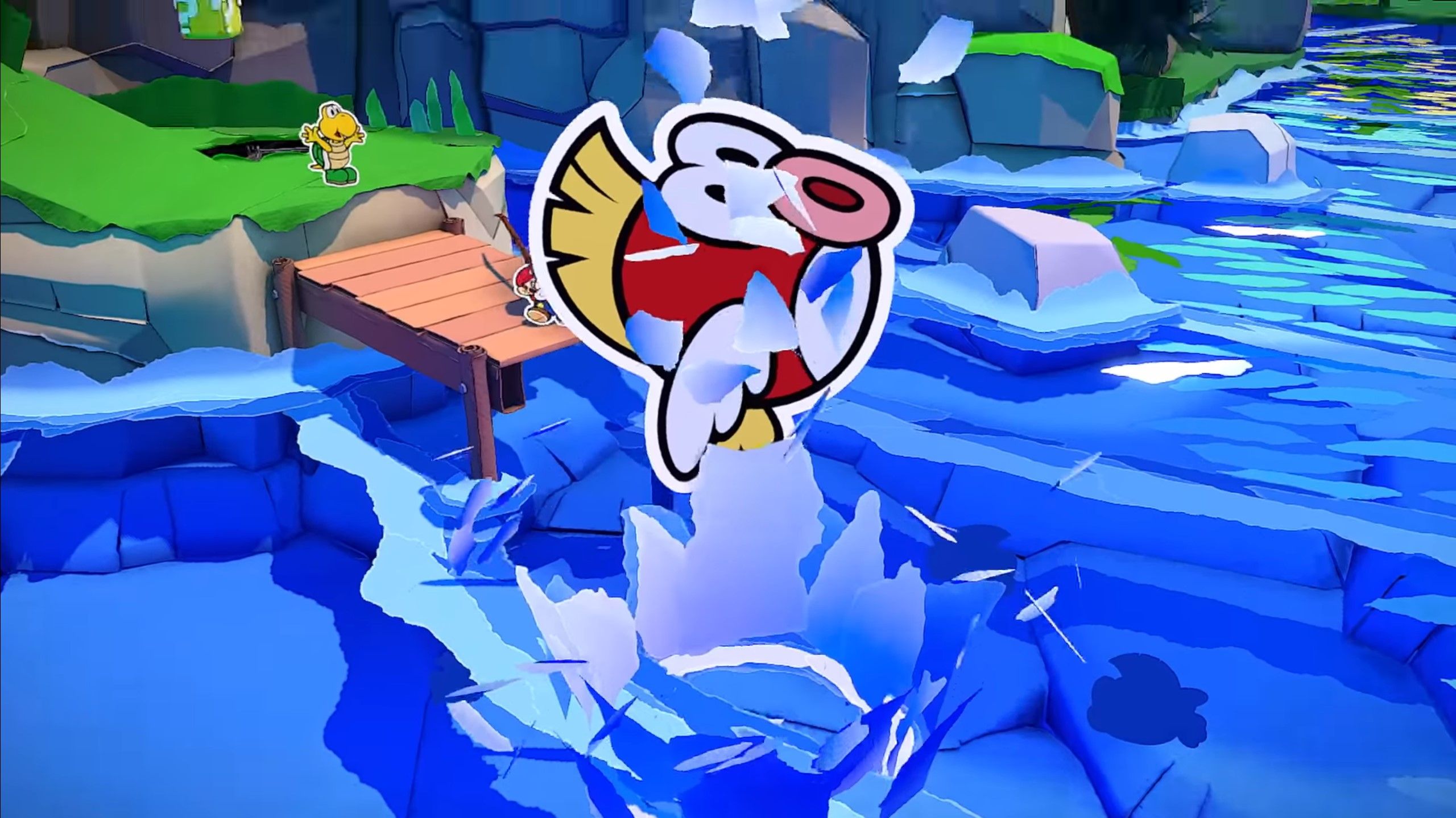 2 Spike
Speaking of Bowser's Airship, it is in this short scene where we can see potentially all of Mario's allies in The Origami King. Olivia and Folded Bowser are there, as are Bowser Jr., Magikoopa, Bomb-Omb, Koopa, and four Spikes. At the end of the scene, two of the Spikes tumble off the ship.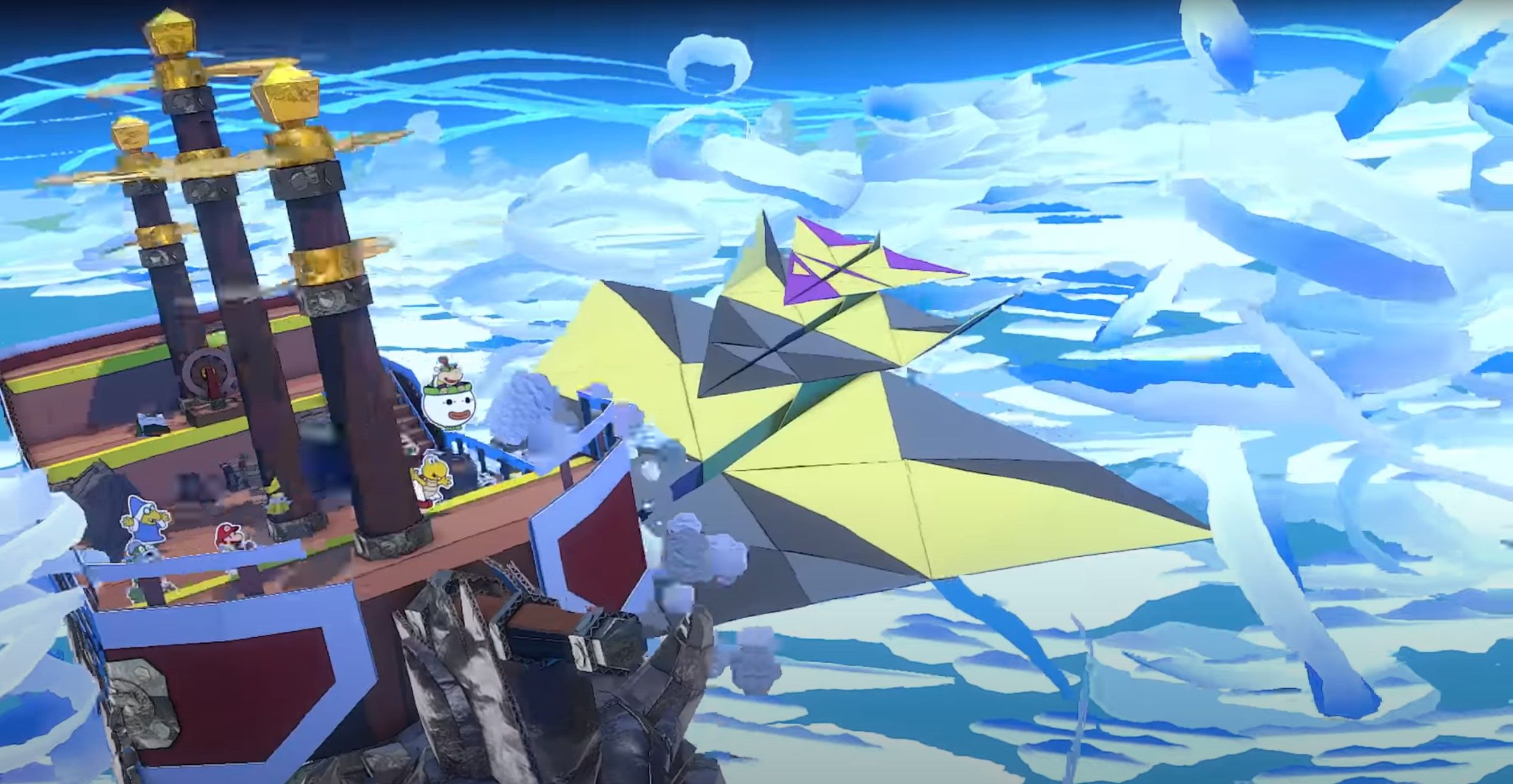 Maybe all 4 of these Spikes operate as one ally, or maybe only one of them accompanies Mario on his adventure. The box art for the game seems to indicate that at least 1 Spike (and an unseen Shy Guy) will be helping Mario in his battle with the Origami king, but it isn't clear yet which Spike(s) are the companion.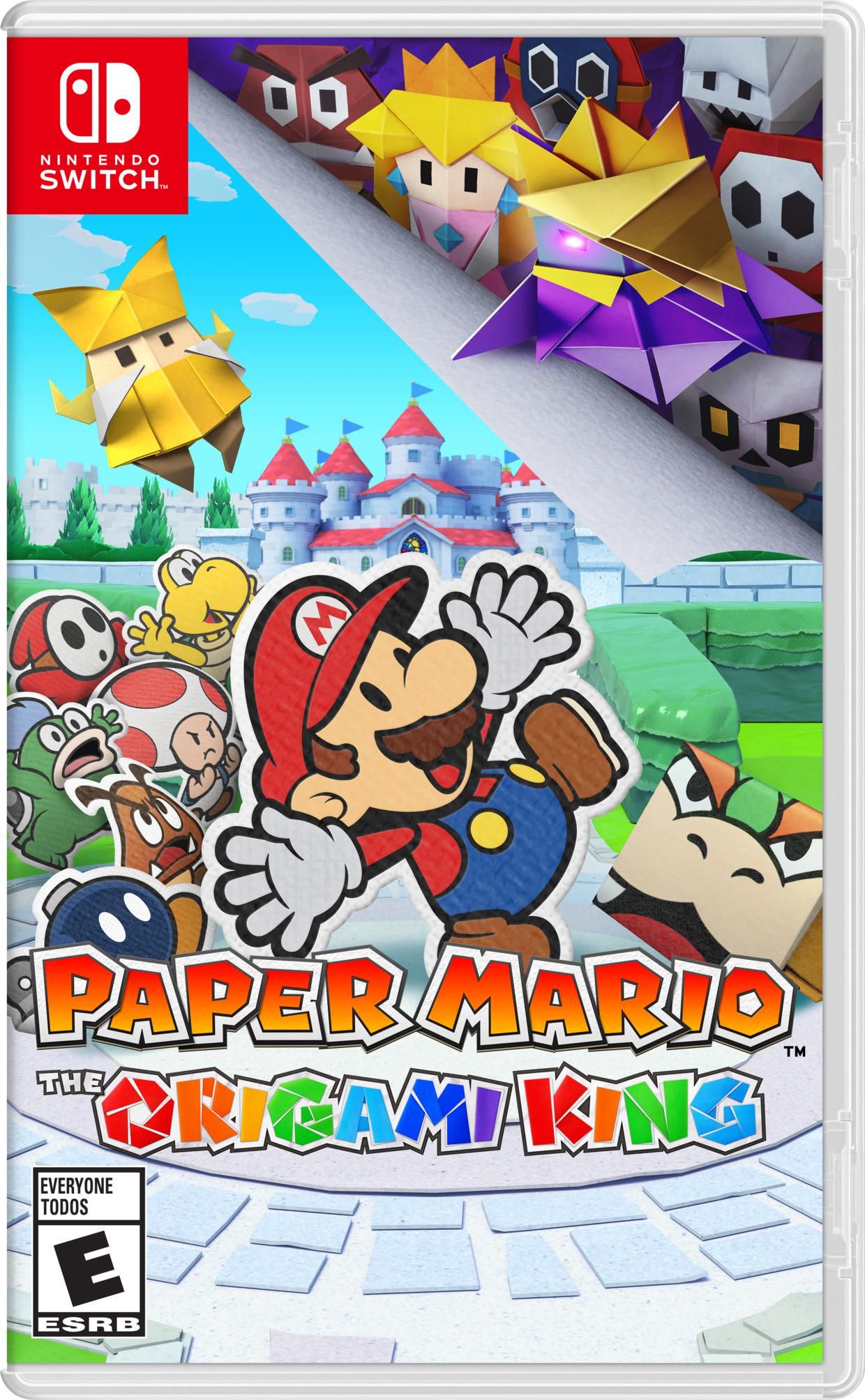 1 Luigi?
While Luigi isn't seen in the trailer, a genie lamp with a green L can be seen in the Snifit town. In the promotional screenshots for the game (and in the story synopsis) we see that Luigi arrived at Toad Town with Mario to enjoy the Origami festival.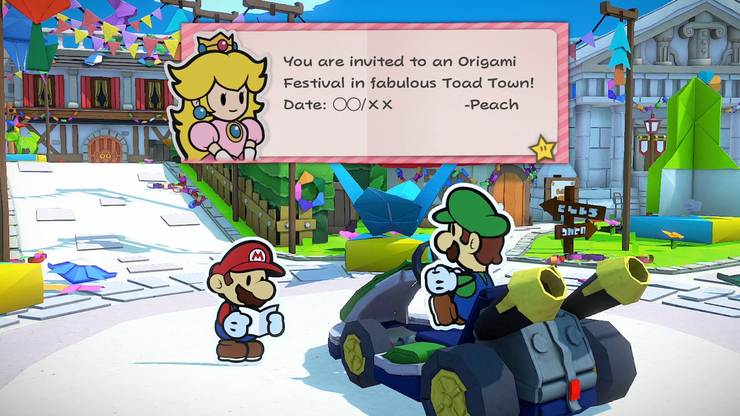 We don't know where Luigi ends up after the Origami King attacks, but we're hoping he will join Mario as a companion as well. Hopefully even a surprise appearance Mr. L? Come on Nintendo, make our dreams come true!