LEGO Unveils New Spider-Man, Suicide Squad and Batman Sets
New Lego DC/Marvel Super Hero sets have gone on sale, featuring Batman, the Suicide Squad, and Spider-Man.
You Are Reading :LEGO Unveils New SpiderMan Suicide Squad and Batman Sets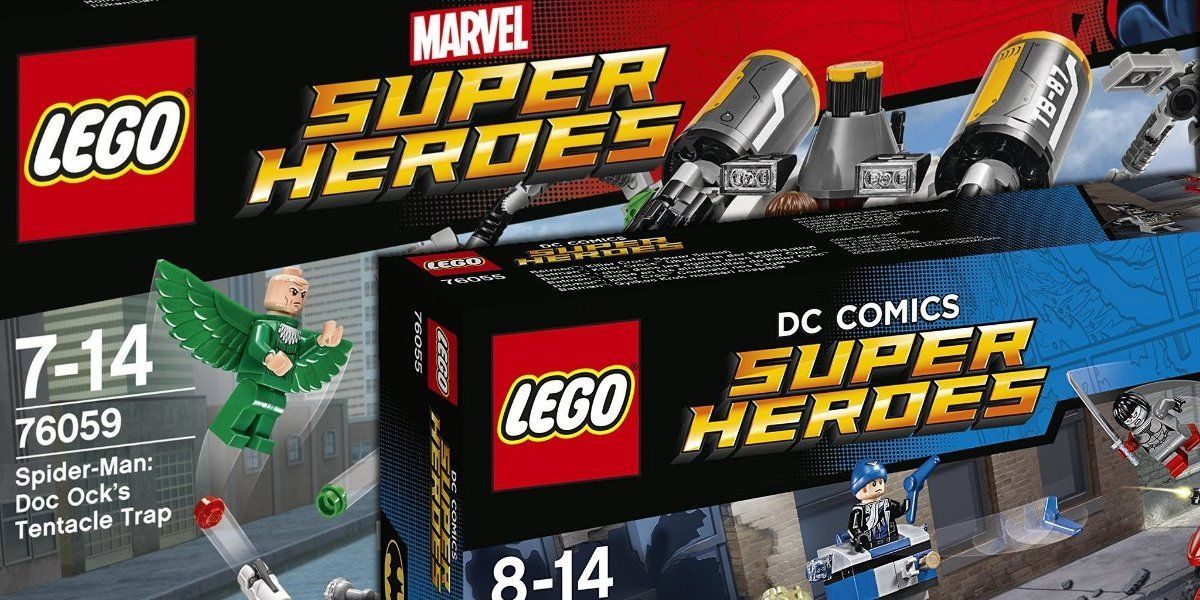 This summer has a lot of blockbuster films in play and the major licensees are doing their best to keep up with fan demand for new toys. Lego has been a leader in the pop culture toy industry for the past ten years with sets to accompany major properties from Marvel, DC Comics and Star Wars, to name a few.
Yesterday a few new Lego sets were unveiled online and are already available for sale. The new sets are from the DC Comics and Marvel Comics universes and include popular brands like Batman, Spider-Man and the Suicide Squad.
There are three new Lego Spider-Man sets, one Batman and one Suicide Squad set included in the new wave of toys. You can check out details on all of the sets below: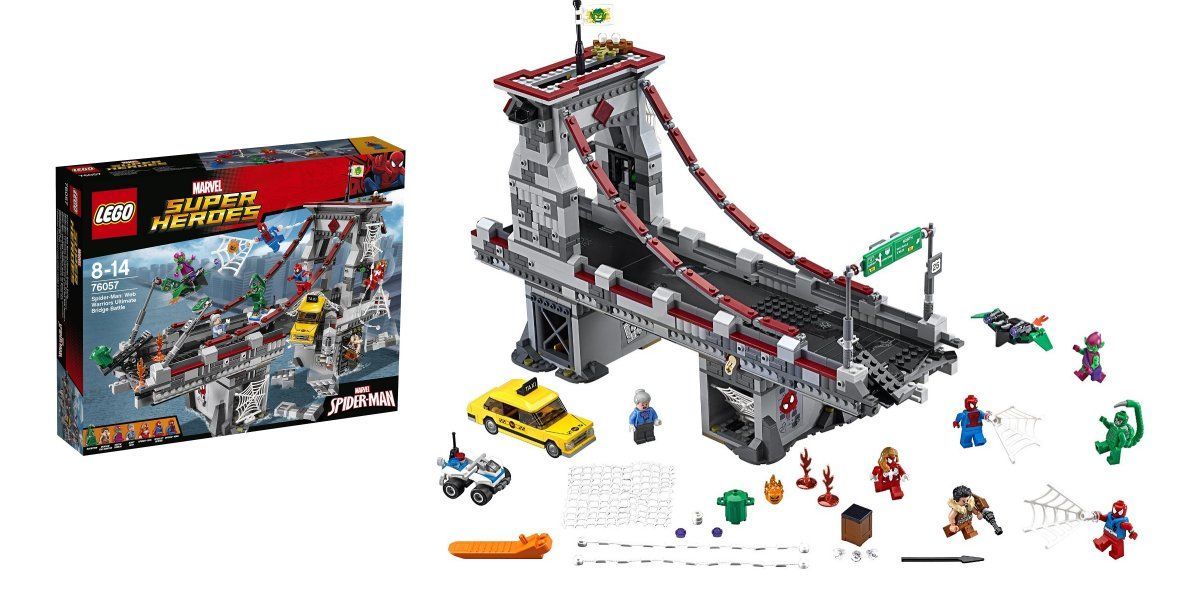 The first Lego Marvel Super Heroes Spider-Man set is Spider-Man: Web Warriors Ultimate Bridge Battle(76057). This set offers seven minifigures, including Scorpion, Kraven the Hunter, Green Goblin, Aunt May, Spider-Girl, Scarlet Spider and Spider-Man. The building parts of the set offer a section of bridge, Goblin Glider, Taxi and a Police ATV. The official Lego synopsis can be found below:
Swing into a bridge battle zone and team up with Spider-Man, Spider-Girl and Scarlet Spider to defeat Green Protect Aunt May from Green Goblin, who has a flaming pumpkin bomb and a Goblin Glider with stud shooters, along with Kraven the Hunter and Scorpion's venomous tail! Press the bridge's flag to launch a net to trap the villains, or launch a Super Hero from the side of the bridge and swing into action to save the day!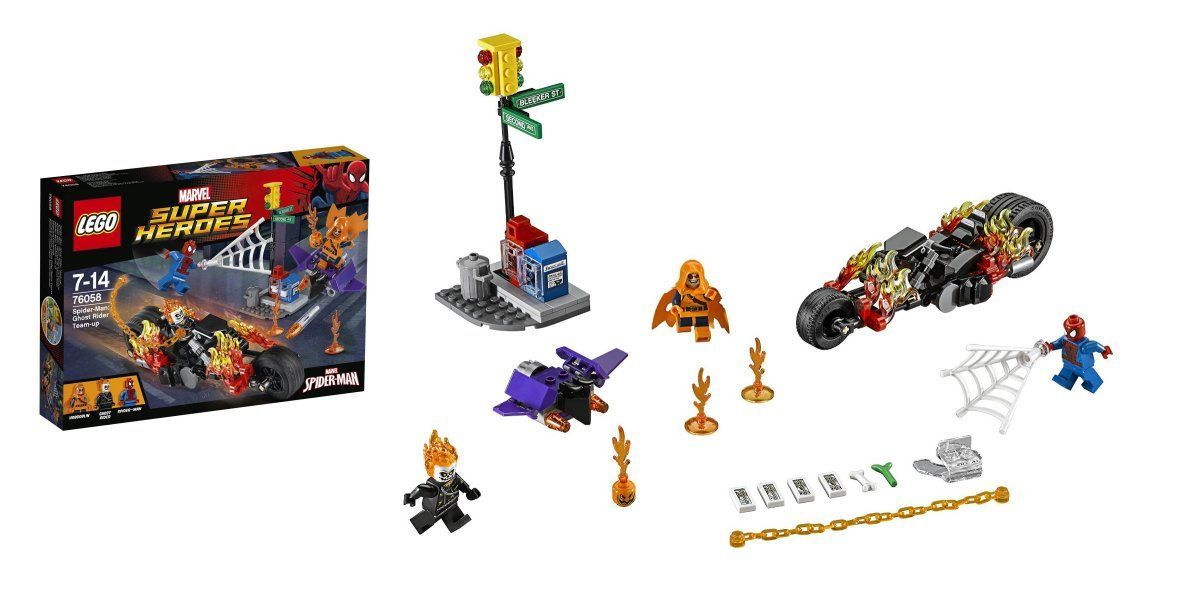 The next Lego Marvel Super Heroes Spider-Man set is the smaller Spider-Man: Ghost Rider Team-Up (76058). This set offers just three minifigures, Hobgoblin, Ghost Rider and Spider-Man. Buildable vehicles include a Ghost Rider Bike, Goblin Glider and a traffic light model. The official Lego synopsis can be found below:
Stage a street battle scene as Spider-Man and Ghost Rider join forces against Hobgoblin. Dodge the Goblin Glider's missiles and flaming pumpkin bomb, and use Ghost Rider's fire chain to catch the evil demon. Knock Hobgoblin off his Goblin Glider or the top of the traffic light with Spider-Man's Super Jumper!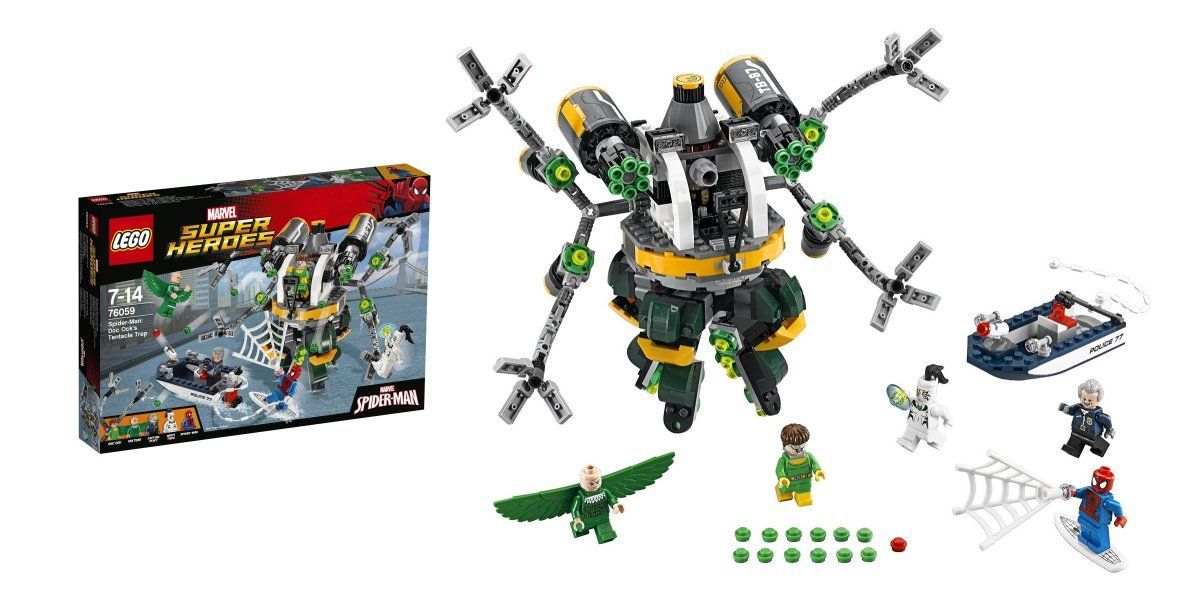 The final Lego Marvel Super Heroes Spider-Man set is the Spider-Man: Doc Ock's Tentacle Trap (76059). This set offers five minifigures including Doc Ock, Vulture, Captain Stacy, White Tiger and Spider-Man. The buildable portions of the set include Doc Ock's Octo-Bot and a police speedboat. The official Lego synopsis can be found below:
Rescue White Tiger from the Octo-Bot's slippery tentacles! Doc Ock is wading through the water in his weaponized Octo-Bot and has taken White Tiger prisoner in one of the tentacles! Steer Captain Stacy's speedboat with Spider-Man surfing in on his web surfboard tow and rescue her! Watch out for Vulture nosediving through the air and fend off his attacking claws.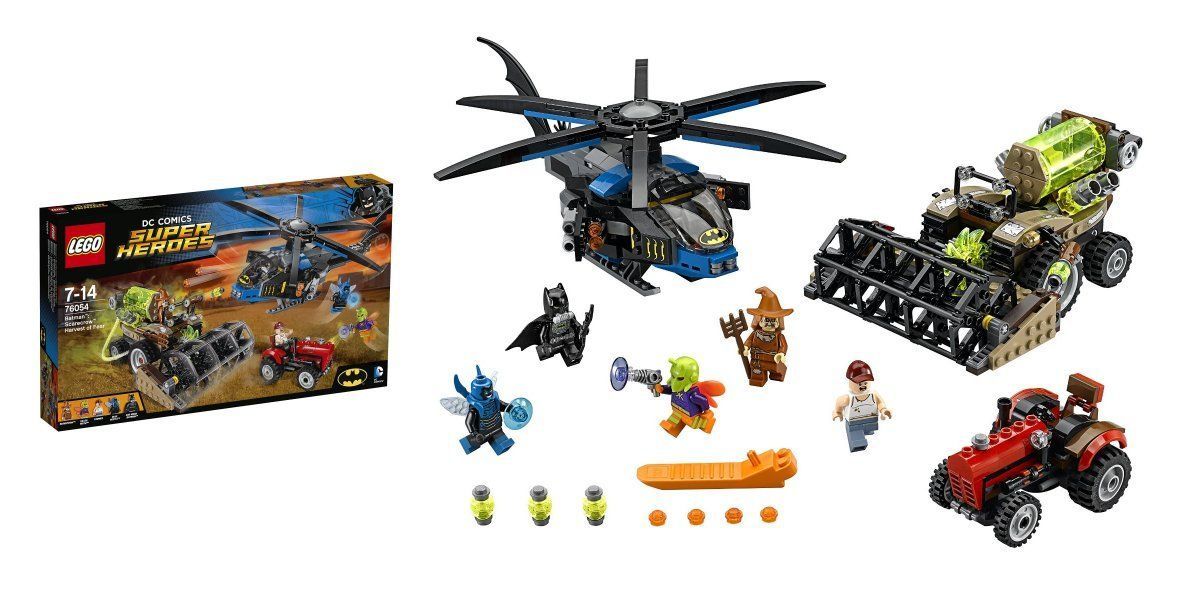 The newest Batman themed Lego set was released under the DC Comics Super Heroes moniker and is titled Batman Scarecrow Harvest of Fear (76054). This set offers five minifigures, including Gas Mask Batman, Blue Beetle, Scarecrow, Killer Moth and a farmer. The three vehicles that can be built in the set include The Batcopter, Scarecrow's harvester and the farmer's tractor. The official Lego synopsis can be found below:
Stop Scarecrow™ and Killer Moth™ spreading fear on the outskirts of Gotham City with Gas Mask Batman's Batcopter, featuring an opening minifigure cockpit, four pop-out stud shooters and a six-blade spinning rotor. Team up with Blue Beetle™ in an aerial battle to protect the frightened farmer. Evade the harvester's rotating cutters and detachable fear gas stud shooter, and prevent the villains capturing the farmer in its fear gas tank.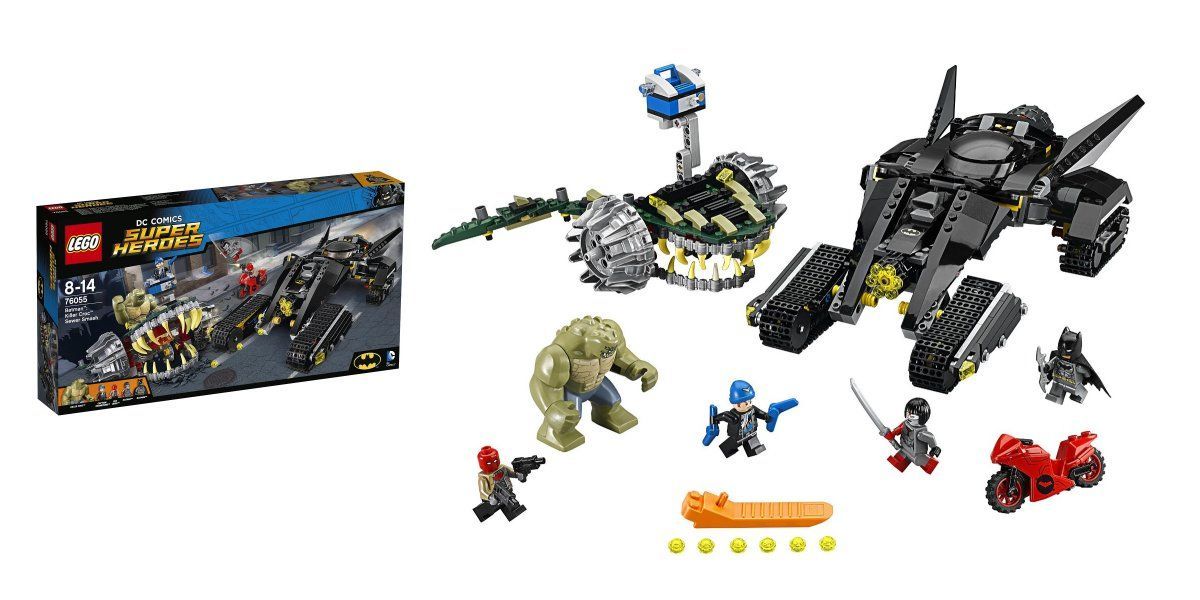 Although not officially branded as a product from the upcoming Suicide Squad movie, the final set that we're featuring is certainly meant to accompany the movie. This Lego DC Comics Super Heroes set is titled Batman Killer Croc Sewer Smash (76055). This set offers five minifigures, including Suicide Squad members Killer Croc, Captain Boomerang and Katana. The set also includes Batman and Red Hood minifigures. The three vehicles that can be built include the Bat-Tank, Killer Croc's Battle Chomper and Red Hood's motorbike. The official Lego synopsis can be found below:
Help Red Hood™ and Katana™ stop the monstrous Killer Croc™ and evil Captain Boomerang™ from destroying Gotham City. Roll the Bat-Tank into action and fire the 6-stud shooter against Killer Croc's Battle Chomper. Drop bombs from the tank or deploy the ram weapon to crush Batman's enemies. Manoeuvre the motorbike out of reach of the Battle Chomper's movable tail and chomping teeth, and dodge the vehicle's flying boomerangs.
You can find the sets for sale now on Lego.com and Amazon.
Spider-Man can be seen in Captain America: Civil War, which is in theaters now. Batman, Killer Croc and the rest of the gang from the Suicide Squad can all be seen in the upcoming Suicide Squad movie, due in theaters on August 5, 2016.
Source: Lego (via CBR)
Matt MacNabb is a pop culture historian, author and freelance writer that has spent the better part of the past 20 years studying movies, tv, comics, toys and their effects on our culture. Matt is the mind behind a network of popular websites, including LegionsOfGotham.org, GhostbustersCollector.com, TMNTCollector.com, TheAtariNation.com and PixarCollector.com. A regarded authority on Batman and comic book history, Matt and his work has been featured in publications like Total Film, SFX Magazine, Variety, Brick Journal, on CNN and BBC Radio, and other various books, magazines, radio shows and newspapers. He has contributed freelance writing to several websites, including Snopes and Screen Rant. He has also contributed content and editorial services to books like Holy Franchise, Batman and The Dc Comics Action Figure Archive and is the author of four books, including Batman's Arsenal: An Encyclopedic Chronicle, Ghostbusters Collectables, A Secret History of Brands: The Dark and Twisted Beginnings of the Brand Names We Know and Love and Teenage Mutant Ninja Turtles Collectables. Matt resides in Omaha, NE with his wife and four children, he can be found online at his official website MattMacNabb.com.
Link Source : https://screenrant.com/lego-batman-suicide-squad-spider-man/