My Hero Academia Theory: Shigaraki Will Slaughter League of Villains
In chapter 311 of My Hero Academia, Hawks makes a startling comment about Tomura Shigaraki that would lead to the end of the League of Villains.
You Are Reading :My Hero Academia Theory Shigaraki Will Slaughter League of Villains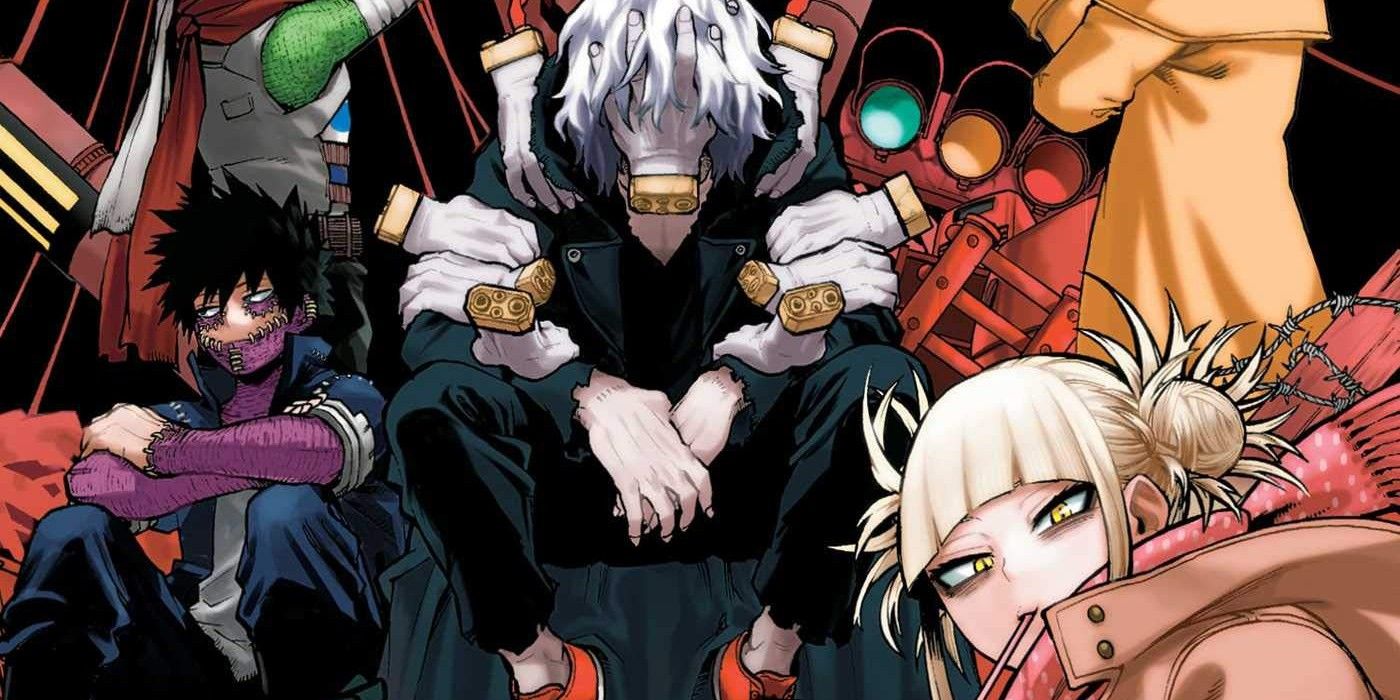 The number-two hero known as Hawks just made a startling comment about My Hero Academia's Tomura Shigaraki that, if true, would not only result in a startling turn of events for the League of Villains, but would undoubtedly have disastrous implications for all of Japan's heroes.
Hawks makes the alarming statement in chapter 311 to the number-one hero, Endeavor, and number-three hero, Best Jeanist, who, in addition to All Might, are all following Deku as he attempts to draw out All For One from hiding. The conversation between the top three heroes inevitably turns to All For One and his current plot to eventually capture Deku to forcefully take One For All for himself. This concerns Hawks, but not for what readers might expect.
Hawks notes that Shigaraki won't be able to accept One For All if he doesn't get stronger and gain more hatred. Hawks believes that the insane amount of hatred Shigaraki already espouses isn't enough. If that is in fact true, it suggests that Shigaraki will have to somehow feel more hatred than he already does, and the ever advantageous All For One will undoubtedly try to make this come to pass. Remember, All For One has taken over Shigaraki's body on account of his own being incapacitated, so he's already proven that he's more than capable of doing just about anything to achieve his goals. In other words, All For One will try to make Shigaraki feel more hatred so that his body will be able to contain One For All.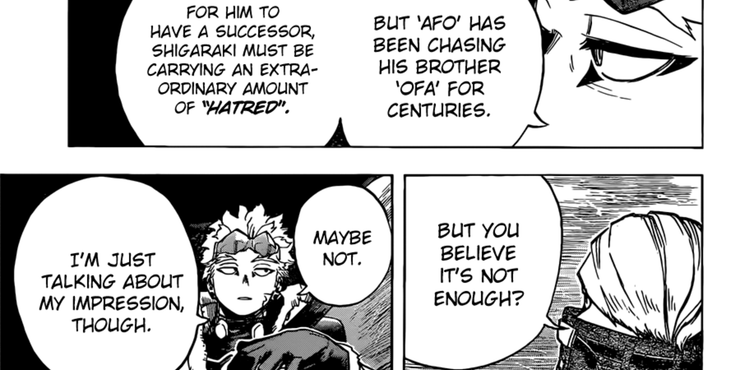 But how can he accomplish this? Shigaraki has already revealed that, due to the overwhelming amount of hate inside of him, his goal is to destroy everything and everyone. How can he possibly feel more hatred? Easily. When Shigaraki first reveals his deadly intentions to the League of Villains in chapter 222, Himiko Toga is able to put two and two together: "Wait. You want to destroy even the things that I love?" Shigaraki responds to this by saying, "My allies are exceptions. You guys should get what you want in life."
In other words, the one and only connection that Shigaraki has to this world are his allies. Take that away from him, and he'll have nothing. Take that away, and he'll undoubtedly be overcome with a profound amount of hatred, the likes of which he has never experienced before. So All For One's intentions are clear: He must slaughter the League of Villains. Then, and only then, will Shigaraki's body be able to handle One For All. And since All For One is in control of Shigaraki's body, him killing the League of Villains means that Shigaraki would technically be slaughtering them.
That said, all of this might imply that the successful implementation of such a plan would be counterproductive for All For One, as it would mean that My Hero Academia's heroes would have less enemies to fight against. However, even though Shigaraki is currently in an imperfect state since his awakening was cut short, Shigaraki's power already eclipses every member of the League of Villains exponentially. So slaughtering them all, which would make him even stronger than he already is, would be a small price to pay for Tomura Shigaraki to amass such incredible powers.
Link Source : https://screenrant.com/my-hero-academia-311-theory-shigaraki-league-villains/