Tom Hanks Is Upset Apple Made His New Movie Go Straight To Streaming [Updated]
Greyhound is the latest film to debut on directly on streaming instead of in theaters, and star and writer Tom Hanks is disappointed by the change.
You Are Reading :Tom Hanks Is Upset Apple Made His New Movie Go Straight To Streaming [Updated]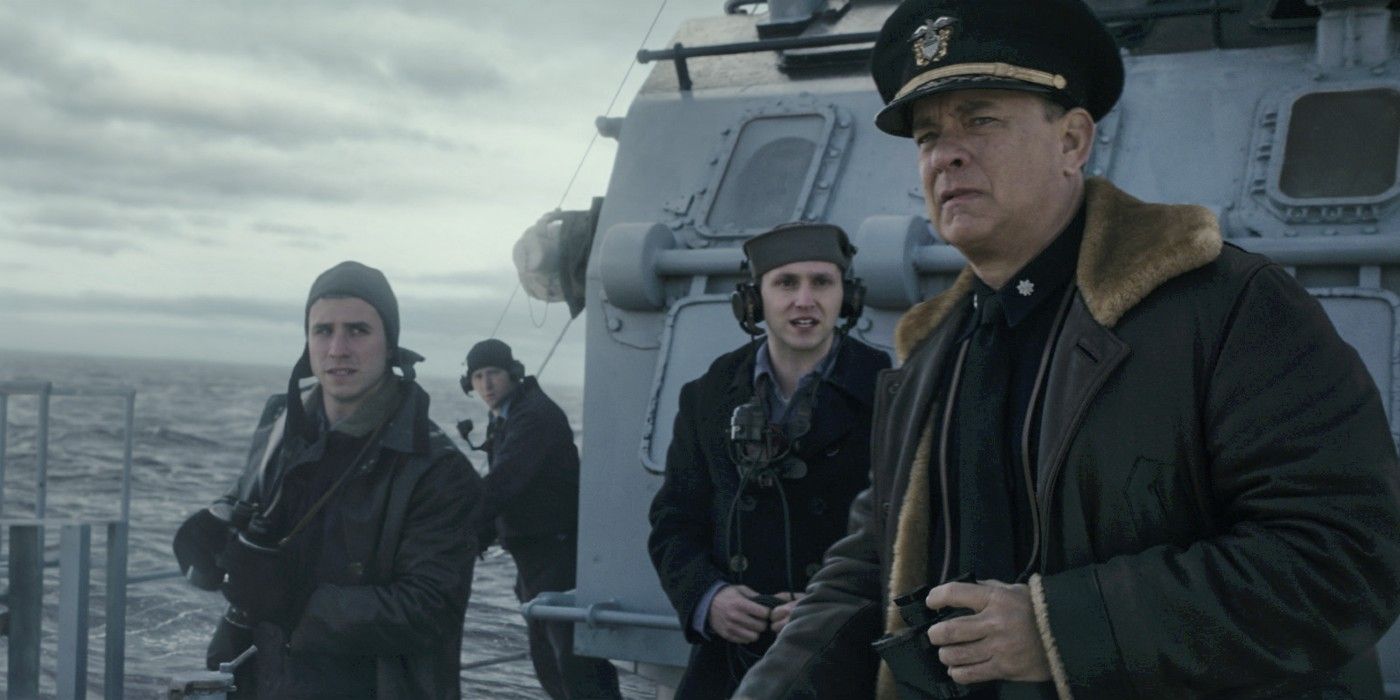 Tom Hanks is disappointed his latest film, Greyhound, is heading to Apple TV+ instead of theaters. The WWII film stars Hanks as Commander Ernest Krause, the leader of an Allied convoy crossing the Atlantic while being attacked by a Nazi submarine wolf pack. Greyhound has endured a long journey to release, as it was once scheduled for March 2019. However, Sony opted to move Greyhound to May 2020, which proved to be a far costlier move. The coronavirus pandemic has sent shockwaves through the 2020 release calendar, as just about every major movie since March has been delayed or otherwise impacted. Around the time of Greyhound's May release date, it was announced that the film would skip theaters and instead stream exclusively on Apple TV+ starting this Friday.
Greyhound is just one of several movies that has opted to forego a theatrical run and move straight to streaming. Universal's Trolls World Tour was the first to make the unprecedented move, and it's since been followed by the likes of SCOOB!, The King of Staten Island, and Artemis Fowl. Most displaced 2020 movies are still waiting for theatrical releases, but with several theater chains having remained closed up until this point, studios have been forced into difficult positions.
Hanks, who was one of the first celebrities to actually test positive for COVID-19, spoke about his experience and Greyhound with The Guardian. Of course, the subject of Greyhound's straight-to-streaming release came up, and Hanks admitted that he's disappointed by the change. Hanks called it "an absolute heartbreak" before going on to say, "I don't mean to make angry my Apple overlords, but there is a difference in picture and sound quality."
UPDATE: In an interview on the TODAY Show, Hanks clarified his previous comments:
Well, I'm actually thrilled that Apple TV is making it possible for everybody to see [Greyhound]. Not only worldwide, as long as you have Apple Television, but also the day after my 64th birthday, thank you, thank you very much.
This is a magnificent gift that's come to us because of Apple. Because COVID-19 did something heartbreaking to us all. It closed down the theaters. We don't have the cinema. There isn't anybody that doesn't like going to see a good movie with 800 other people and coming out with something in common. Barring that, Apple Television has saved the day for us. We had a magnificent movie that was not going to be seen because of the realities.
It is going to be viewable, and otherwise we would've languished in a vault for a movie that, look, is 88 minutes of a thematic story that does speak to what we're all going through right now. We didn't know that at the time we made the film, we were just trying to make a lean, new spare version about procedures and behaviors about how difficult it was to stay alive in the North Atlantic in 1942.
…we were rescued at sea by a convoy with a big Apple logo with a bite taken out of it.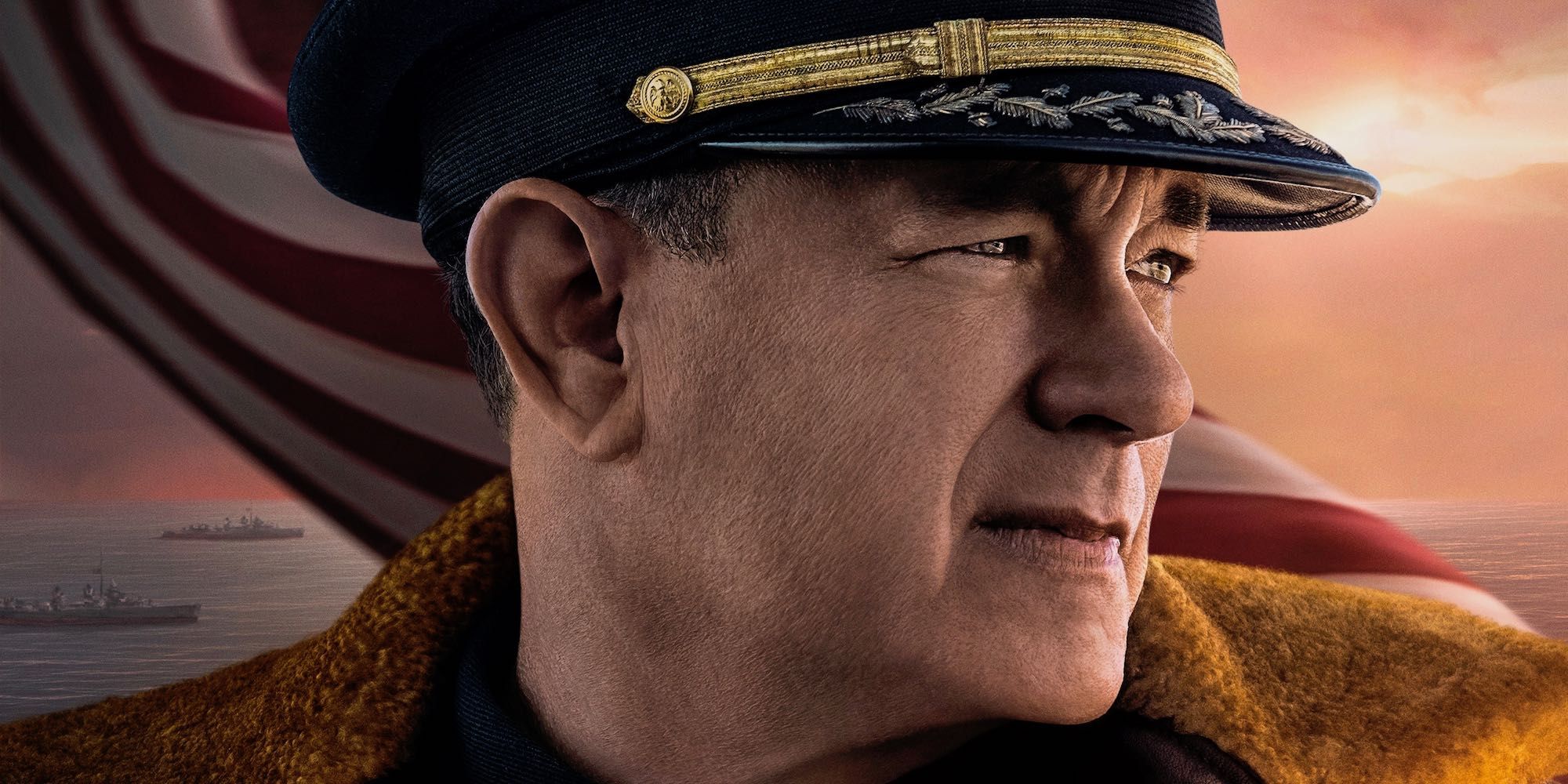 Hanks isn't wrong in saying there's a major difference in watching a movie on a TV or laptop instead of the big screen at a movie theater. It's largely why so many directors, like Christopher Nolan and Patty Jenkins, have recently championed the theatrical experience and are dedicated to keeping their upcoming films (Tenet and Wonder Woman 1984, respectively) in theaters.
It's undoubtedly disappointing for those who worked on Greyhound to have it switch to streaming, so Hanks is probably echoing the thoughts of many. Hanks wrote the screenplay for Greyhound in addition to starring in it, hence why he feels especially passionate about it. Still, it's good to know Greyhound will be released in some form during this pandemic so audiences can still enjoy it. The pandemic has proven how important streaming is these days, as those remaining home have relied on it more than ever. It might not be the release Hanks envisioned, but it's still something that can provide some much-needed entertainment.
Link Source : https://screenrant.com/greyhound-movie-streaming-release-tom-hanks-response-apple/